Moving within Southeast QLD?
All Purpose allows you to book a fully equipped truck with experienced staff on our competitive hourly rates with the guarantee that you only pay for the actual time required to complete your move plus our fixed price depot-to-depot charge.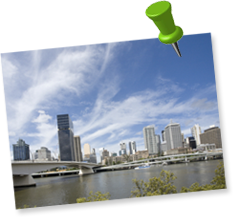 You control the time and cost of your move by assisting with any of the following –
Packing your cartons and moving them to a central location in your home
Disassembling beds and swings
Disconnection of electrical appliances like your fridge and dishwasher in readiness of your move
Ensuring all items that will fit have been packed into a carton
Labelling all cartons with the appropriate room location for correct placement at your delivery address
Unpacking all of your boxes upon delivery
Alternatively, let us remove all the stress of moving with the "All Purpose Deluxe" service where we send an experienced representative to your home to give you an obligation free fixed price quotation for all of your needs which can include any of the following –
Premoval service assisting with preparing your existing home for sale
Supply of all of the required moving boxes including paper, tape and labels if required
Careful packing of your items by an experienced packing team
Relocation to your new home or into our modern purpose-built storage facility
Storage for as little or as long as needed
Unpacking services include –

Full valet unpack. Unpacking of all personal effects from cartons and placement into cupboards, drawers etc. Removal of all cartons and packing materials from site
Removalist Assisted Unpack. Unpacking of all personal effects from cartons and placement on nearest benchtop or flat surface. Removal of all cartons and packing materials from site

Pre & Post removal house cleaning
Pest control
Car & pet transport
If you would like this service, follow this link to Get a Free Quote.
What happens next?
Once you have decided which of our services is best for you, one of our helpful representatives will contact you to complete our electronic booking service and issue you with a secure job number, confirming your booking.
Leading up to your move our operations staff will be in contact to confirm the timing and any special requirements of your relocation, such as premoval or packing services.
On the day, our fully equipped removal truck will arrive complete with all the necessary equipment to ensure the safe and efficient relocation of your home contents by people who are experts in their trade. Our trucks all carry the required furniture blankets, plastic covers, trolleys and ties to guarantee that your goods are moved with complete care.
After a quick inspection of your home and contents, your movers will position the vehicle in readiness to begin your move. At this time, you can offer your assistance or sit back with the peace of mind that our knowledge gained over 40 years in the industry ensures that your goods are handled with the care that you would expect.
On completion of your move, our office will again be in contact with you to request feedback via our survey letter where you can provide the details of any friends or family you would like to refer to us. To ensure we provide the best service possible, we welcome feedback through this process.
Where can we move you?
We provide daily services in South East Queensland and weekly transport along major routes to Cairns, Sydney and Mt Isa.