Why should you label moving boxes?
Moving house is one of the most stressful times in life. Imagine how much stress is added if you pack your moving boxes and don't label them? Looking for your plates so you can eat your first meal in the new house? Yeah, it's in one of those 40 boxes.
If the thought of this situation fills you with dread, then you are not alone. You can keep your move running smoothly and minimise stress levels. Adding a few extra details when labelling can make moving less anxiety-inducing.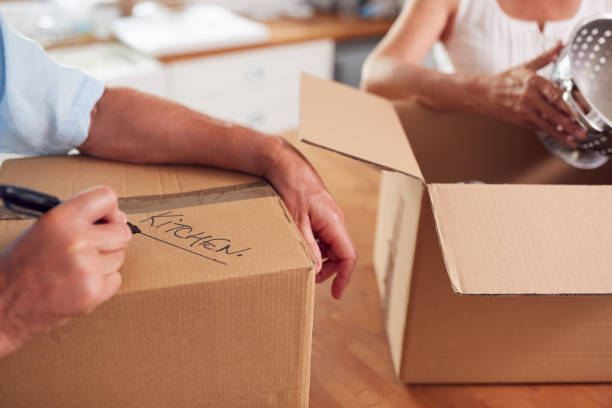 How can you easily label moving boxes?
Organisation is key. Generally, you have more time when packing than you do when unpacking, so take this opportunity to plan ahead and have a system in the weeks or days leading up to the big move. You can simply start packing one room into moving boxes at a time, but that's not always practical. Packing the non-essentials early is a good place to start. However, this will mean you will have boxes from each room all getting stored together as you progress. So what's the answer? You want to make the unpacking as streamlined and organised as possible. And for that, you need a system.
Add a packing list to your moving instructions
This is a plan of how you will pack your boxes. Start with items you are not currently using, like clothes for out of season, excess items such as spare towels and bedding, special occasion clothes and dining ware (aka 'the good china'), and books you're not currently reading.
Know what's inside each box
Label each box with the room and what's in the box. Not only will this help you when you are unpacking, but it will assist the removalist in packing the truck, with the heaviest at the bottom and the fragile at the top.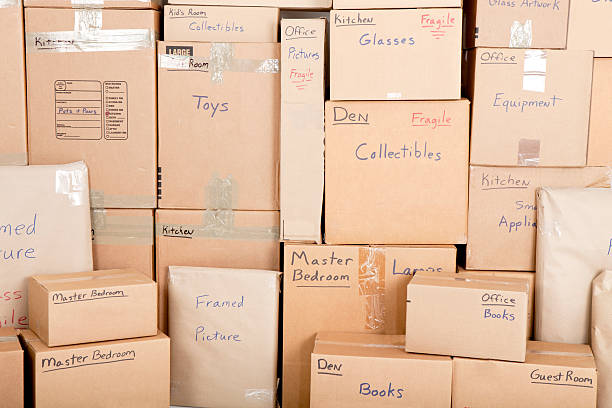 Categorise the items that go in each box
Keeping similar items together makes sense and can speed up unpacking. For example, kids' toys – cars, or bedroom – sneakers.
Use colour-coded tape and boxes
To go pro like us when we pack houses, you can also have a colour coding system which makes unpacking a breeze. Designate a colour for different areas of the home and you'll know at a glance where to take the box.
Label with name and contact details
Print labels for boxes with your name and contact details so that if there is any mix-up, it is quickly returned to you.
Use packing supplies that are specific to your move
Use the correct size boxes for moving items, such as larger boxes for light items and smaller moving boxes for heavy things. Use original boxes for electronics if you still have them, and sturdy packing tape to keep your items safe.
Take photos of all your items before you move
Taking photos of items before you move is advised to assist with your insurance and the removalist's insurance if there are any queries at the destination.
What should you exclude when moving?
If using a removalist, request a list of items that they don't pack or transport. This will usually include things like acids, car batteries, bleach, fireworks, firearms or ammunition (a breach of firearms licences in any event), motor oil, flammable goods such as pool chemicals, gas tanks, and even some nail polishes.
The best advice is to discuss these items with your removalist. They may be able to move them for you but with specific requirements. If in doubt, check it out.
You may want to handle packing and moving expensive, large or sentimental items yourself. For example, expensive artwork, a jewellery collection, electronics such as LCD televisions or computer monitors, valuable collections or sentimental items you can't chance losing. You can either move them yourself or identify these items with the movers so they can have a box for moving them and specific packing supplies to assist you. For televisions and electronics, movers can assist with this and usually have spare boxes and moving box labels for this specific purpose.
Obvious items to avoid include perishable food, pets, and plants. Pets should be transported by animal movers or stay with you. Plants usually don't cope well with being stacked with furniture. However, your removalist may be able to accommodate plants if the move is short and they are notified before the date.
Do moving companies also supply boxes, packing materials, and labels?
Most do, and you may be able to purchase them and other packing supplies from your removalist. Some can even supply you with moving box labels personalised to you or provide instructions on creating your own and labelling your boxes when moving.
Are there movers who can pack your things for you?
Absolutely, and it is highly recommended if this is in your budget. The team at All Purpose Removals and Storage are professionally trained to pack items in a way that keeps them safe for travel – and we are also experts at keeping organised and can even unpack at the other end for you. Discuss this option with your removalist to find out how easy it can be for you. You may be surprised by just how little this convenience costs.
Final Words
Moving house is enough to make the most organised person in the world anxious. Delegating this task to professionals can be the biggest gift to yourself or to your family. Not only can we move your personal items with complete dedication and care, but we can also replace your stress with excitement. Shift your focus from spending hours packing a house to getting prepared for this brand new chapter. Let us do the hard part!
Contact us at All Purpose Removals and Storage for a friendly, helpful discussion on your options and needs today.