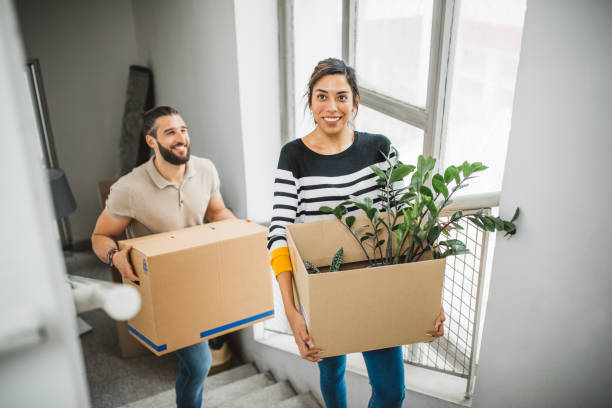 Are you a self-confessed crazy plant person? Then you'll want to pack your plants with as much care and precision as your favourite champagne flutes during your next move. To avoid crying over spilt soil, check out our handy list of six tips on moving house with plants, and make sure your plants get the TLC they deserve.
1. Give Your Plants a Good Prune
Prepping your plants is important when moving them to a new home. This will reduce dead leaf and branch fallout during transit, making the process of moving from house to house a lot tidier. Trimming back old growth also encourages new growth, so you'll be helping your plants regenerate too. Any weeds and dust should also be removed at this point.
2. Repot in Lightweight Plastic Pots
This serves two functions: one, it makes moving plants back and forth a lot less tiring. Two, it allows you to wrap your pots in protective materials, so they don't break during transit. If you can't afford to spend extra money on more pots (we all know how expensive moving to a new house can be!), you could use hessian to support your plants' roots while moving to your new home.
3. Check Your Plants for Insects and Parasites
Get a leg-up on parasite prevention before leaving your old home. Treating your plants for pests and diseases will minimise the risk of introducing these nasties into your new home or spreading them to your other plants while they're all in the back of the moving van.
4. Give Your Plants Plenty of Water
Whether you're moving house with plants during the heat of summer or the cool of winter, the rule generally remains the same: you don't want to water your plants too close to moving day. Water retention within the soil will add quite a lot of weight and increase the risk of damage to both your plants and other items that are being moved to your new home. The water could also spill onto your other belongings.
Moving plants in winter means you won't have to worry about them getting dehydrated so easily – just be sure to keep them in a warm and dry place so they aren't exposed to the cold. Once you're at your new home, feel free to water your plants as much as you'd like.
Moving greenery that's been planted in the ground? These will need to be dug up as close to your moving day as possible – preferably the day of your move.
5. Put Plants in Moving Boxes
Moving boxes provide excellent protection for your plants during transit. Placing your plants in a moving box will protect their bases and fragile roots from sustaining damage. When moving plants, you don't need to buy a special box: just make sure your plant's moving box is strong enough to support its weight.
6. Bind Branches Together
Once your plants are in their moving boxes, reduce the risk of them breaking even further by binding their branches together. This is usually only required for larger plants, such as potted fruit trees. You could also wrap the entire plant in an old bed sheet or hessian to keep it safe.
Growing plants of any sort is a labour of love – and you don't have to give up this love when you move. Contact All Purpose Removals to find out how we can help with relocating your most prized possessions. We have the skills and experience to move anything, from potted plants to a seemingly immovable grand piano. Nothing is too hard for us!