Removalists Brisbane
Looking for a local team of removalists in Brisbane? Our highly experienced removalists are here to help!
We're one of the largest removal companies in Queensland, providing a comprehensive offering of services to help with every aspect of office and house removals in Brisbane.
Our movers in Brisbane have the experience and expertise to get your items safely from A to B. We've helped residential and commercial customers in Brisbane with their moving and storage needs for years, so you can trust us to treat your valuables with care.
With competitive rates, a full range of furniture removalist services and no hidden charges, our local removalists in Brisbane make sure you get the best deal possible.
It's easy! Just pay for the time it takes to complete your removal plus our fixed-price depot-to-depot charge, and our professional movers in Brisbane will take care of the rest.
We also do furniture removals and storage on the Gold Coast and beyond, so we can help you out no matter where you live in Queensland.
No removal job is too big or too small for our removalists in Brisbane. Learn more about our Brisbane moving and storage services and book a move or get a quote today.
Brisbane Removalists that Make Moving a Breeze
Our removalists in Brisbane have been helping customers cut down on their moving costs for over 40 years.
Your moving guardians, our professional movers in Brisbane have been well-recruited and highly trained to handle your belongings with the utmost care and respect. From furniture and crockery to pool tables and pianos, you can have peace of mind knowing your valuables are in good hands with All Purpose Removals.
With no double-handling and a range of company-owned vehicles to suit every move, our removalists in Brisbane are your trusted choice for home and office relocations – big or small.
Try these quick and simple cost-cutting measures to save during your move:
Pack your cartons and move them to a central location in your home
Disassemble any beds and swings
Disconnect electrical appliances like your fridge and dishwasher
Ensure all items you'd like to be moved have been packed
Label all cartons with the appropriate room location for correct placement at your delivery address
Unpack all of your boxes upon delivery.
Trusted Local Removalists – Southside Brisbane and beyond
Whether you're moving to or from Brisbane, our moving and storage services can take the process from exhausting to effortless. Discover how our local removalists in Brisbane can take care of your moving to-do list.
Local House Removals Brisbane
Moving house is said to be one of the most stressful events in life. But everyone has to do it, right? Wrong!
Thanks to our house removals in Brisbane, you can be as involved (or uninvolved) in your moving process as you please. With no job too big or small, our movers in Brisbane are ready to help with their unmatched customer service and local knowledge.
From carefully packing your belongings and transporting them to your new home to unpacking your moving boxes and even making up your beds, our removalists in Brisbane take care of everything so you don't have to lift a finger.
Our movers in Brisbane are available at all times with relatively short notice and will arrive within a half-hour time window if your move is scheduled to start between 6.00am and 8.30am in the morning.
And because we know moving house can be expensive, we offer competitive hourly rates for house removals in Brisbane.
Office Removalists Brisbane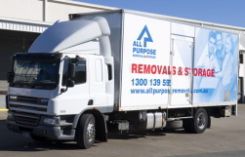 Office or business relocations can be highly stressful, impacting workflow and profitability. Our movers in Brisbane can complete your office relocation with minimal fuss and disruption so you can get back to doing what you do best.
We've helped businesses of all sizes with their office relocations, from single-store start-ups to organisations spread across several storeys in office buildings. Our professional removalists in Brisbane can assist with the disassembly and reassembly of furniture and shelving, the chronological relocation of files and more.
If you're feeling overwhelmed about an upcoming office move, our affordable and thorough Brisbane moving and storage services are the perfect solution.
Storage Solutions
Running out of room in your home? Or perhaps you need somewhere safe to keep your things during a move? Whatever your reasons for needing storage, All Purpose Removals can offer fully secured, monitored and pest-controlled storage units for private and commercial customers.
Our storage in Brisbane ensures your items are kept secure yet easily accessible. We can also arrange to have our removalists in Brisbane deliver your goods from your storage unit to your new home or office when you need them. Know that we have all your needs accounted for and that our professional team can provide total peace of mind.
Professional Packing and Unpacking
If packing is your most dreaded step of the moving process, why not call in the pros to take care of it for you? Our movers in Brisbane are experienced in packing household and workplace items efficiently and safely.
You can rely on our expert packing teams to carefully pack your valuables using high-quality moving boxes and supplies. Our removalists in Brisbane can even unpack your belongings, either placing your boxes on benchtops and flat surfaces or unpacking them and placing items exactly where you want them.
Where can we move you?
We don't just handle furniture removals within the Gold Coast and Brisbane – we work further afield, too!
Affordable Removalists in Brisbane, QLD – Call Today
Take the stress out of moving house with a professional local mover in Brisbane. Get your free, no-obligation quote today!
We pride ourselves on helping customers in Brisbane with all of their removal needs. Got a question or want to know more about the costs involved in hiring our team? Get in touch and we'll happily explain our hourly rates. You can also visit our FAQ section and blog page for more information. 
Look to us for an expert Gold Coast Removalist service and also assistance with premoval in Brisbane.
---
Our Customers Love Us!
Reviews
The very best of the best. Thiago and Otavio worked so hard and with a big smile. Nothing was too much trouble! These guys deserve a pay... read more rise!!!! We have used All-Purpose Removals four times, and they always do an incredible job. Thank you so much Thiago and Otavio.

julie ferguson


October 5, 2022

The guys from All Purpose removals have been a godsend. I was in the unfortunate situation of having to move twice in 1 week and the boys helped me both... read more times! Extremely professional, friendly, amazing value for money. They made one of the hardest times so much better, can't recommend or thank them enough - especially Cristian!

aleisha hynes


September 28, 2022

Marcel & Thiago were excellent, they handled our furniture with complete care. We're both very efficient and professional, would not hesitate in recommending them to anyone for their next move.

Matt Foster


September 19, 2022

I had Mr Reinaldo and Vini attend to help me with my move. The pair were very efficient and extremely polite. I would recommend this company and in particular these... read more two gentlemen. Thanks

Mathew Reeves


September 19, 2022

Excellent service, quick and professional. Everything from quote to move was transparent and efficient. The person who came to quote provided us customised advice. Arrived on time and moved everything... read more very quickly and to our satisfaction. Highly recommend. Will use their services again.

Nikhil Aggarwal


September 19, 2022

Marcelo and Reinaldo arrived on time packed everything efficiently and carefully, very polite and I would be happy to use them again.

Liz Kerr


September 19, 2022

Leandro and Sergio were great to work with. They are certainly the most careful and considerate removalists in my experience of moving four times over the past five years. Handled... read more our furniture with great care and they were polite and professional throughout. Thanks very much Leandro and Sergio!

David Koh


August 19, 2022

All Purpose Removals & Storage did it all. They have reasonable pricing, booked in your spots, communicated well and had fantastic removalists. Massive thank you to Murilo Nas & Robson.... read more They were neat, tidy, quick and everything you'd need.

Ar0used turtle


August 19, 2022

Great service, efficient, friendly and very helpful and obliging to get the job done but properly. Thankyou to the two young men that helped us.

Christie Pabari


August 19, 2022

📦 Giovany C & Fabian T are 'Moving Legends' Last weekend they moved our precious furniture and boxes with skill, pace and care like they were moving their own... read more home. Rarely have we seen such professionalism. We highly reccomend APR and these two gentlemen. They took all the pressure out of our house move from Redland Bay, Quandamooka Land to Hervey Bay 🐋 K'Argi Peoples land. THANK YOU!

Leisa Emblen


July 19, 2022

Amazing experience ..the team couldn't be more helpful… Thank you Sergio, Biel, Gui

Anthony Berrington


July 19, 2022

Gabriel and Gui were the best removalists you could ask for. Super careful with all our stuff, wrapped everything. Really nice guys. It's unfortunate that corporate allocated them a super... read more tiny truck for the move, which meant they had to do two full loads. This took longer and cost us more, which wasn't the guys fault. The company offered us one hour credit, which didn't cover the cost of their small truck mistake, so I paid hundreds of dollars more than I should have. I'd recommend asking for Gabriel and Gui if you book (because they're excellent), but also make sure they send a big truck, not a baby truck.

Ben M


July 19, 2022

I have moved so many times and it's always so stressful. Thanks to James, Brendan and Rhys who were so relaxed, courteous and professional - I was so impressed... read more and they made my move easier than I was expecting. I highly recommend AllPurpose and I'll be telling my friends. Also thanks to Annabelle in the office who was amazing as well! All so helpful.

Samantha Jansen


July 19, 2022

Wasn't a great experience all in all. Arrived hours later than agreed. The movers themselves were friendly but sadly they got our brand new couch dirty putting it down sideways... read more instead of on its feet, so now it has to be professionally cleaned, that's not amazing. Pretty expensive per hour rate too. I'll be using a different mover in future.

Jet Dingo


July 19, 2022

Excellent service could not be happier. Arrived on time and and extremely helpful. The Chalet Motel Brunswick Heads.

Harry Bowman


July 19, 2022

A positive experience with vinicius and sergio as my movers. They were very careful with all of my belongings and to make sure they were not damaged through the move.... read more Very polite and accomodating. Very professional and hard working on such a rainy day too. Would be happy to have them again. Thank you!

Maire Pullen


June 19, 2022

Sergio & Vinicius did a great job and NO DAMAGE to any walls 👌. These guys are Highly recommended

Healthy News Hub


June 19, 2022

David & Vini did a fantastic job with our move. They didn't stop all day and nothing was too much trouble for them. Highly recommend their service. Thanks so much... read more again guys! Top notch 🙂

Susan James


June 19, 2022

Vini and Murilo did an amazing job with our move! They were really friendly, fast, and so efficient. They took great care of all our stuff and we're happy to... read more make changes if we needed them. Would definitely recommend!

Stacy Lee


June 19, 2022

David and Guilherme had fantastic service and were really helpful throughout the move. All our belongings were moved thoughtfully and without damage, thanks guys!

Brett Newman


June 19, 2022

Today I had Felipe & Giovanni and omg they where so amazing and very careful with my stuff. The move went easy, man they can stack a good storage unit.... read more They got it all in it was great

Marilena Palombi


May 19, 2022

Thank you for your assistance. Gabriel and Reinaldo helped our Nan move house. "They did a marvellous job and took great care of my stuff. They wrapped everything so... read more nothing would get damaged. I am so pleased with their work ethic and will be reccomending them to all my friends."

Amber Rose


May 19, 2022
---