Removalists Springwood
Need reliable removalists in Springwood? You can trust the team at All Purpose Removals.
With our experience and local knowledge, you can consider us your moving guardians. Our professional movers in Springwood ensure your belongings and valuables remain safe, secure and protected during your move.
Our cleaning, packing, storage and relocation services help take the stress out of every aspect of your move. Whether you're moving locally or interstate, you can rely on our removalists in Springwood to get you there at a cost-effective price.
Full-Service Removalists Springwood
Take your move from tiring and stressful to effortlessly easy with our removalists in Springwood. We specialise in Springwood removals and home and office relocations all throughout Queensland– big and small.
With a comprehensive offering of services, we're your one-stop-shop for all your relocation needs.
Packing and Unpacking Springwood 
Get your items from A to B safely and efficiently with our home packing services. Your precious items are in good hands with our trained packing teams. Using high-quality packing supplies and moving boxes, we skilfully pack and load your belongings with care to save you time and effort.
And to speed up the unpacking process, our removalists in Springwood can also unpack your belongings in your new home. You can choose to have your items unpacked from their boxes and set carefully on benchtops and flat surfaces, or opt for our full valet unpack, where we place everything where you'd like and even make the beds!
Learn More About Our Packing Services
Business Removals Springwood
Office relocations can cause disruption to productivity and profitability. Our office removalists help minimise this disruption by carrying out your relocation with efficiency and an attention to detail that's second to none.
We complete business removals in Springwood and throughout Australia to help local businesses transition smoothly from one location to another. Our office relocation services can be tailored to suit every type of organisation, from single-store retail businesses to multiple floors in city office buildings, and even hospitals.
Learn More About Our Office Relocation Solutions
Moving Boxes and Packing Supplies
All Purpose Removals doesn't just have removalists in Springwood – we also sell quality moving boxes and packing supplies. The right gear can make your move that much smoother (and get your items there in one piece).
From moving boxes and porta-robes to bubble wrap, we can supply and deliver all your packing essentials.
Buy Moving Boxes & Packing Supplies Online
Short & Long-Term Storage
In between houses or offices? We can provide secure short- and long-term storage solutions to keep your belongings safe until you need them again.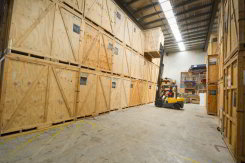 Our flexible short-term storage is the perfect temporary home for your belongings during a move. And with leases as short as one week, you only pay for what you use. We can even collect your items for storage and deliver them to you when you need them again.
If you're looking for somewhere to store your items indefinitely, our long-term storage is a convenient solution, keeping your items in top condition for as long as you need.
Learn More About Short-Term Storage and Learn More About Long-Term Storage
What to Expect When You Move to Springwood
Leafy Springwood is known for its great parks and friendly locals. This family-friendly suburb of Logan City is primarily residential and is home to several schools, various shopping precincts and a selection of healthcare providers. It's also well serviced by public transport, making it a great spot to live if you're looking to get out of the hustle and bustle without losing the convenience of city living.
Request an Obligation Free Moving Quote from Our Local Movers in Springwood
If you're looking for removalists in Springwood, All Purpose Removals has the experience and expertise to help you relocate. For more information on our Springwood removals, get in touch or request a free quote today.