Declutter Your House and Sell it for more
Plus get 8 weeks free storage during the sale.
All Purpose Removals is the only removal company offering a fully integrated Premoval service. Premoval is a great opportunity to showcase the best features of your home and make it appear more spacious, which raises the likelihood of achieving a higher price.
With Premoval you engage your removalists at the point of preparing your house for sale, rather than once the sale has been completed.
There are three major parts to our Premoval service.
Declutter. Rubbish removal and yard tidy. If required, we will deliver a skip bin to your premises and help you fill it, to ensure that your yard/garage/spare room gives a great first impression
Packing. Careful packing of non-essential items that can be moved to give your home a more spacious feel.  We can either supply the materials for you to pack yourself if you want to save on cost or our staff can help you pack any items you would like removed prior to your 'Open for Inspection'
Storage. Up to 8 weeks of free storage of your contents while you sell your home and buy a new one.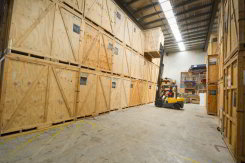 Once you've sold your home and have a confirmed moving date, your items will be loaded onto the truck to form part of your move so that when we arrive at your new home, we have all of your belongings ready to be unloaded.
Storage can be arranged for in excess of 8 weeks if required; charged at our competitive weekly rates.
All phases of our Premoval service are quoted on a fixed-price basis once one of our experienced estimators has visited your home to discuss your requirements.  There are no hidden price increases
We're looking forward to helping you get the most out of your home.  Please follow the link below to get a free, no-obligation quote.